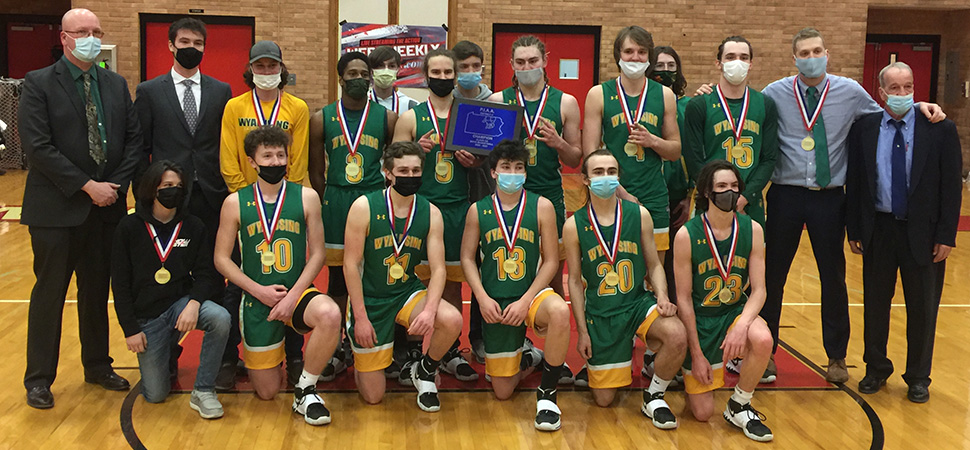 Wyalusing Captures District IV 2A Boys Basketball Championship
By: Garrett Carr | NTL Sports | March 12, 2021 | Photo courtesy Chris Manning
Everything was going right for the Wyalusing Rams. They were giving East Juniata no good looks at the hoop, and the shots were falling. By the time East Juniata could catch their breath, it was 20-2. And, when Wyalusing extended that lead to 32-12 at halftime, it was clear as day. For the first time since March 1994, when "The Power of Love" by Celine Dion was at the top of the Billboard Charts, Wyalusing would be the champions of District 4 AA Boys' Basketball, as they played a complete game and beat EJ, 59-40.
"I thought our guys did a great job following our game plan," Wyalusing Coach Brett Keyes said. "We changed the way we guarded ball screens… the guys really did a great job paying attention to the scouting report."
If the offensive game plan was making everything the Rams looked at out of the gate, they executed to perfection. Wyalusing made their first four attempts from beyond the arc, getting the Tigers out of the 2-3 defense they wanted to play coming into the game. After Graydon Cobb opened the game with a nice floater in the lane, Hunter Moss and Abram Bennett knocked down triples to put Wyalusing out to an early 8-2 lead. After Bennett hit his second three of the first quarter to make it 13-2, a shellshocked East Juniata team needed a timeout and the Ram lead would never get to single digits again.
"These guys get so amped up," Keyes said. "Big games this year and last year we're making shots early and when you make shots you have energy. That's how basketball is."
Abram Bennett is not one of the normal scoring standouts for Wyalusing, but after he added another basket, he had scored eight of the Rams first 15 points. In the biggest game of his life, Bennett gave his team a huge lift.
"I don't really care (about scoring) as long as we win," Bennett said.
The offensive onslaught slowed down for Wyalusing after a first quarter that saw them score 22 points and lead by 15. When the offense wasn't as crisp, though, all night the defense for the Rams would pick up the slack. A ten-point Ram second quarter was actually enough for Wyalusing to win the quarter by five as East Juniata struggled to get anything going against the pressure man defense that Wyalusing deployed.
"We preach (defense) every single day. We do defensive drills before we do offensive drills," Keyes said. "We want to play good solid man defense."
East Juniata seemed flustered coming off the court at the end of the second quarter as heads hung low heading towards the locker room. Whatever East Juniata Head Coach Justin Hazel said to his team at halftime worked. East Juniata came out of the locker room with a renewed focus on both ends.
After eight quick points by Tiger star guard Tanner Barth, the Tigers had cut into Wyalusing's lead in a big way, trimming it to 35-22 with 4:10 left in the third quarter. After Rowen Smith made two foul shots with 3:40 remaining in the quarter, East Juniata had got within ten points, the closest they had been since 10-2, and Keyes knew his team needed a timeout.
"I just said 'relax' even if it didn't seem like I was relaxed," Keyes said about his words to his team in the huddle. "I felt like we were better and I felt like we proved that in the first half. When they were out guarding us in the full court I didn't think they could guard us and stay in front so I said 'get to the rim, we gotta keep scoring'."
Ironically, the play Keyes drew up in that timeout was not for a drive to the rim or a post feed. He instead went to his steady point guard Graydon Cobb. Cobb came off two screens, got a pass from beyond the arc dead center in the floor and rose up and nailed the three pointer while falling down, stopping all of the momentum that East Juniata had built and settling down a Ram team that has struggled to hold leads at times this year.
"That was something Coach Keyes drew up and we needed a score," Cobb (team-high 17 points) said. "It was a draw for a double screen for a shot and a curl and the shot was open, so I took it. I didn't see it go in, I just heard people celebrating."
That shot set off another Wyalusing mini run as they closed the quarter strong. Bennett hit a floater in the lane and Cobb hit both ends of two technical foul shots and after Blake Morningstar made a free throw with four seconds left in the quarter, Wyalusing had regained their stranglehold on the game and then some, as they ended the quarter on an 8-0 run and led 43-25.
Once again, East Juniata would not go down without a fight. After being held to just four points through the first three quarters, Tiger Senior 1000-point scorer Wayne Dressler got his offense going. Four of his nine fourth quarter points came quickly to start the fourth quarter, and after East Juniata turned some offense into defense, they found themselves down only 43-32 with 6:14 left to play. That's when Cobb came through again. Cobb drove through the middle of the Tiger defense on the ensuing possession and hit a pretty floater from seven feet to stop another East Juniata run. By the time Mitchell Burke stole a pass and took it coast to coast to put Wyalusing up 56-40 with 1:47 left to play, the celebration was in full force on the Wyalusing Bench.
Wyalusing will play at home Wednesday against the winner of Elk Lake and Old Forge.